JFRD SERVICE CUSTOM SHIRT DESIGN SET UP AND STORE UPLOAD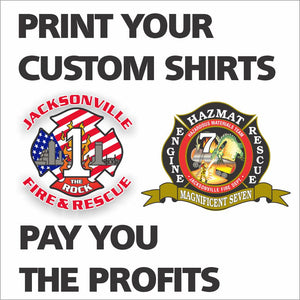 This is the setup for full color station shirts. 

• You upload your artwork
• We process it and get ready for orders
• We post it on our website for sale
• We pay you 40% profit on all orders, paid every Friday to a PayPal acct you designate
We produce it on shirts, hoodies, sweats, long sleeves etc... and ship it direct to the customer.
Just order this item and upload your vector artwork for us to get started.
BY PLACING THIS ORDER YOU ACKNOWLEDGE YOU HAVE PERMISSION AND CONTROL OVER THE ARTWORK YOU ARE UPLOADING.  YOU ALSO AGREE TO ALLOW EVANS MARKETING GROUP TO SALE APPAREL WITH THIS LOGO ON OUR WEBSITE, GENERATING YOU COMMISSIONS(40%) FOR ALL ITEMS SOLD.